Courses
Classes & tutors
|
Prices
|
Booking
Sore Fingers Week 2014
14th - 18th Apr 2014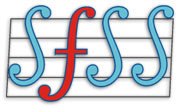 Sore Fingers Week is a five day residential course for bluegrass and old-time musicians. Tuition is provided by some of the finest musicians of the genre, including many from North America.

The subject instruments are fiddle (old-time and bluegrass), banjo (old-time and bluegrass), mandolin, dobro (resophonic guitar), autoharp (diatonic and chromatic), double bass, guitar and singing. There is also a beginners/improvers class with a tutor for each instrument. This class suits complete novices to lower intermediate students.

Aside from the main tuition many other activities take place during the week. In the evenings, one hour long 'dip-in' sessions are given by the tutors in their specialist field for people who are interested in a topic other than their chosen main subject.

Informal jam sessions occur in the evenings in the school bar, in some of the other school buildings and in the grounds if weather permits. All participants are welcome to join in. For students that do not feel ready to join in these jams, a slow jam session is held every day.

Students can opt to form scratch bands and prepare two pieces to be performed in the student concert which is held on the penultimate evening. It is a hilarious evening laden with the goodwill of comradeship built over the preceding days. Well worth the experience.

The tutor concert is held on the final evening when the tutors entertain us with their redoubtable expertise in the bluegrass and old time styles endowing the event with a superlative finale. Prepare to be stunned!

View the typical daily schedule for the week (PDF file). Please note this is subject to minor changes and you will be issued with an up to date version on arrival.

Course places are available unless otherwise stated (full). There is no need to ring up to check availability. Just complete the booking form as necessary and an acknowledgement will be sent when your booking is accepted.
Classes and tutors
| | | |
| --- | --- | --- |
| Class | Tutor | No. places |
| | Introduction | |
| Autoharp | Karen Mueller | 20 |
| Banjo | Tony Furtado -----------------------------CLASS FULL | 20 |
| Banjo | Julie Elkins --------------------------------CLASS FULL | 20 |
| Bass | Ben Somers | 20 |
| Dobro | Ivan Rosenberg | 20 |
| Fiddle | Brian Wicklund | 20 |
| Guitar | Orrin Star -------------CLASS FULL - Wait List Available | 20 |
| Guitar | Grant Gordy -----------CLASS FULL - Wait List available | 20 |
| Mandolin | Joe Walsh --------------------------------CLASS FULL | 20 |
| Old Time Banjo | Rachel Eddy ------------------------------CLASS FULL | 20 |
| Old Time Fiddle | Bruce Molsky -----------------------------CLASS FULL | 20 |
| Old Time Fiddle | Erynn Marshall ----------------------------CLASS FULL | 20 |
| Old Time Banjo | Carl Jones | 20 |
| Singing | Val Mindel | 20 |
| | BEGINNER/IMPROVER CLASS for ALL INSTUMENTS USED IN BLUEGRASS | |
| Autoharp-Beginner | Heather Farrell-Roberts | 20 |
| Beginner - Improver - All Instruments | Gary Payne | |
| Beginner - Improver - All instruments | Richard Collins | |
Prices
Course and accommodation options prices are detailed on the booking form.
Please go to the booking page for full details on how to book your place.