Tutors

John Hollandsworth - Autoharp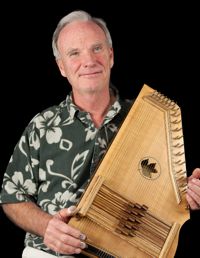 John Hollandsworth is a native of Christiansburg in southwestern Virginia, USA. His repertoire includes, but is not limited to, traditional Appalachian, old-time, and Celtic music. He has been developing his own autoharp style since childhood, when he became familiar with traditional music through hearing friends and relatives play stringed instruments. His playing style incorporates both chromatic and diatonic techniques, and he is sought after as a workshop leader and classroom teacher of his style and repertoire. John has grown to be an award-winning player, an internationally acclaimed teacher and performer, and a well-respected luthier. His accomplishments earned him induction into the Autoharp Hall of Fame in 2010.
John began teaching autoharp classes in the 1980s and now teaches the gamut of formats, from one-hour workshops to multi-day and week-long classes. Since 2000, he has taught almost yearly at the John C. Campbell Folk School and the Swannanoa Gathering in North Carolina, and several times since the 1990s at the Augusta Heritage Workshops in Elkins, West Virginia. Other major teaching and performing venues have included the Ozark Folk Center Autoharp Jamboree in Arkansas, the Mountain Laurel Autoharp Gathering in Pennsylvania, the Willamette Valley Autoharp Gathering in Oregon, the California Autoharp Gathering, the Central Florida Dulcimer & Autoharp Festival, the Cranberry Dulcimer Gathering in New York, Kentucky Music Week, the Buckeye Dulcimer Festival in Ohio, the North Georgia Foothills Dulcimer Festival, the Heartland Dulcimer Festival in Kentucky, the Gathering of Sweet Folk Instruments in Virginia. John has given workshops on many Mountain Laurel autoharp cruises and has given workshops for numerous U.S. autoharp clubs. John previously taught at Sore Fingers Week in 2002 and 2012.
John was the first winner of the prestigious Mountain Laurel Autoharp Championship in 1991. In addition to his Mountain Laurel win, John has been the autoharp champion at the world-famous Galax, Virginia, Fiddlers' Convention nine times, and in 1992, 1993, and 1997 won the coveted "Outstanding Performer" award there, being the only autoharp player ever to do so. He also has taken many honors in smaller regional fiddlers conventions while enjoying playing old-time music with friends. He most often performs with his wife Kathie, and they often appear in concert, at festivals, in house concerts, and at private events.
John is also an autoharp luthier, offering his highly regarded Blue Ridge Autoharps built to each customer's unique specifications (www.blueridgeautoharps.com). The Mountain Laurel Autoharp Championship offers one of his instruments as a coveted prize. His instruments can now be found all over the USA and also in the UK, Asia, Australia, New Zealand, and continental Europe.
John and Kathie have made several recordings both as a duo and with the band Mountain Fling – "Over the Edge," "The Green Fields of Virginia," "Tunes from the Tailgate," and "Where the Mountain Breezes Blow." John can also be heard on the 2003 three-CD set "Autoharp Legacy" and the "Winfield Winners" series of autoharp recordings.

Bill Evans - Class Full - Holding Wait List - BANJO
San Francisco Bay Area musician and Virginia native Bill Evans has been involved with bluegrass music and the banjo for over twenty-five years as a player, teacher, writer and historian. He occupies a unique niche in the banjo world: celebrated worldwide for his traditional and progressive bluegrass banjo styles as well as his innovative original compositions, he also enjoys a reputation as an outstanding instructor as well as being an expert player of 19th century minstrel and classic/parlor banjo styles. His latest accomplishment is authoring Banjo for Dummies for Wiley Publications. This book will be available in mid-August.
Bill currently performs and tours with renowned bluegrass and old time musician Jody Stecher in a unique all-banjo show called The Secret Life of Banjos. In addition, Bill is involved with two outstanding California-based bands: Bill Evans String Summit, an ensemble dedicated to the performance of Bill's original instrumental tunes and Rustler's Moon with Kathy Kallick and Bill Evans.
In addition to authoring Banjo for Dummies, Bill is also the co-author of Mel Bay's Parking Lot Pickers Songbook: Banjo Edition, a collection of 250 jam session favourites with an accompanying two CD set.

Leon Hunt - Banjo
Leon makes his living playing alongside some of the world's top musicians from a number of musical styles, backgrounds and disciplines.
Since graduating from his 'Music and Music Technology' degree in 2000 Leon has taken part in several notable 'transatlantic' recordings; Miles Apart (2004) Shuttle Diplomacy (2008) and Fishing Music (2009). These projects have included some of the biggest names in American traditional music; Viktor Krauss, Tim O'Brien, Stuart Duncan, David Grier and Matt Flinner to name a few.
Beyond proving his Bluegrass credentials, Leon has found himself in a diverse array of other musical settings; occasional live and/or recorded collaborations with Irish traditional music's Michael McGoldrick and Flook, African Kora virtuoso, Sekou Kieta, and English Folk singer, Kate Rusby.
He has also enjoyed being part of several major theatre productions for The Royal Shakespeare Company, Birmingham Rep, and The New Vic (search the web hard enough and you'll find a very funny picture of him in a powdered wig and tights!!!)
If all of the above name dropping means nothing to you then we'll have to resort to Anchor Butter's major 2008 TV advertising campaign (the series of commercials with the fuzzy felt cows), that was Leon too

Todd Phillips - Bass
Two time Grammy winner (1983, 1997) Todd Phillips is the bassist of choice for many of the most innovative, as well as traditional, acoustic instrumental and bluegrass recordings made since the mid-1970s. His tone, timing, and subtly intricate bass lines make him one of the few real stylists on acoustic bass, and he is among the very best practitioners of the instrument on the scene.
Phillips was a founding member of the original David Grisman Quintet and The Tony Rice Unit. He's also associated with J.D. Crowe, Doyle Lawson, Bobby Hicks and Jerry Douglas in the now classic bluegrass recording group; The Bluegrass Album Band – producing six classic Bluegrass albums over fifteen years.
Since then, Phillips has had the opportunity to work with a virtual "who's who" of acoustic music's finest, such as Vassar Clements, Ricky Skaggs, Sam Bush, John Hartford, Alison Brown, Mike Marshall, Stuart Duncan, Tim O'Brien, Del McCoury, Darrell Scott, Larry Campbell, John Doyle, Dirk Powell, Tara Nevins, and has performed in venues from Royal Albert Hall in London, with Joan Baez, to The David Letterman Show with Elvis Costello.
In 2001 Phillips completed a set of instructional DVDs for Homespun Tapes, "Essential Techniques for Acoustic Bass, I & II", and added to this endeavour by doing a "bass workout" instructional DVD focusing on strength, endurance, pitch and rhythm building exercises for upright bassists.
As you can see, Todd is a busy man and it's taken three attempts to get him to Sore Fingers Week. If I were you, I wouldn't miss this chance!

Brian Wicklund - Bluegrass Fiddle
Brian was born on a hot day in June in the ancient city of Kyoto, Japan. To the Japanese nurses, he was shockingly large, bald and white. It may have been the early influence of Japan carrying over to his life in Minnesota that got him enrolled in Suzuki violin lessons as a seven year old. He did pretty well as a violin student but probably wasn't exceptional. At the age of nine, his formal instruction ended when his teacher left town.
When Brian was a third grader, his mother went back to college to finish her undergraduate degree. Writing a paper on country music for an anthropology class, she brought home a Lester Flatt and Earl Scruggs record called "Foggy Mountain Banjo." The drive of the banjo, the ferocious speed of the tunes and the fiery fiddling of Paul Warren instantly changed Brian's life forever. He was smitten. His father was too, and bought himself a banjo and Scruggs' instructional book.
As an eleven and twelve year old, Brian started meeting bluegrass and folk musicians in Minnesota. He learned his music and technique from records and by cornering older players with a tape recorder and soliciting impromptu lessons. Many a patient fiddler endured Brian's grilling.
Over the next few years, Brian started winning fiddle contests. His dad switched to bass. A regular jam session turned into a band called "River Basin Bluegrass." Playing in a band was definitely a perk for Brian as his dad drove and could get him into bars to perform.
With the few other kids in Minnesota who where interested in bluegrass, Brian formed a band called "Bluegrass Connection." They won first place at the Minnesota State Fair talent contest in 1980, which awarded them a contract to perform the next year. Apparently the heady success was too much for the band and they broke up. Brian continued to perform with various bluegrass bands through high school.
In college Brian traveled back to Japan to study the language and culture. While there, he formed a band with the Osaka area's finest bluegrass players. Named after the commuter train between Osaka and Kyoto, they were called the "Keihan Railroad Boys." Brian graduated college with a degree in East Asian Studies and Elementary Education and minors in Hacky Sack and Beer Drinking.
As it would happen, fate came a-knocking with a telephone call from the bandleader of "Stoney Lonesome." The band was going through personal changes and they were in need of a fiddler. Much to the initial disappointment of his parents, Brian forwent the career path of a second grade teacher and instead joined the band in 1987. In the next seven years, the band toured nationally and internationally (including a trip back to Japan in 1990). They released seven recordings and played on Prairie Home Companion radio show.
Between 1995 and 2004 Brian played with an array of nationally and internationally tour bands. He was a member of the Ethnic Dance Theater, Judith Edelman Band, Kathy Kallick Band, Lorie Line's Pop Chamber Orchestra, and the Chris Stuart Band. He has been busy as a studio musician and producer laying down fiddle and mandolin tracks on hundreds of projects. His own critically acclaimed recording project "Arrival" was released in 1998. In 1999 he received the Minnesota State Arts Board Fellowship Grant.
In 2005 Brian and good friends Ben Winship and Eric Thorin formed the acoustic power trio Brother Mule. Their debut release "Big Twang" won them an Indie Music Award for best Americana CD of 2005. He also performs in Minnesota with a band he fronts called Brian Wicklund and FiddlePals.
Brian is also the author of the best selling books, American Fiddle Method Volume 1 and 2 books and DVDs published by Mel Bay. Spin-offs from the initial books for fiddle include viola, cello and piano accompaniment books. He is currently expanding his offerings with the FiddlePal Explore Series focusing on Canadian Fiddle Styles and Texas and Contest Fiddle Styles. He plans to release a mandolin and bluegrass fiddle book in the near future. Brian is also a co-founder of the online bluegrass instructional website Bluegrass College. He teaches dozens of fiddle workshops and camps each year.
He and his wife and their three kids live in a town of 600 on the Minnesota side of the St. Croix River. Founded by Swedish immigrants in the mid-1800s, the town's landmarks such as the general store, bar and diner were inspirations for Garrison Keiller's Lake Wobegon. Brian is also a runner and competitive Nordic skier.
Brian has been performing for over thirty years. Playing music is spiritual for him. "I love playing for people. I always have. Those moments when all the stars align and the audience and the musicians are really listening, creative energy flows unimpeded through my body like electricity through a wire and becomes sound. I feel like a conduit for the creator. Time spent dealing with emails, telephone calls, noisy crowds, bad sound systems, lost luggage and seedy hotels is absolutely worth it for moments like those."
Brian says of his diverse musical experiences, "I've been a side-man in a lot of groups. I think it's been a good thing. I've played a variety of music with so many musicians from all over the country. New music challenges me and I always learn so much from my band mates about music and life."
Of late, Brian has been excited about performing his own music. "It's taken a long time for me to figure out what it is that I do. I see my colleagues perform and it's easy to see that so-and-so is a bluegrass fiddler or a Canadian fiddler or a swing fiddler. But my musical interests have always been diverse so I've had difficulty labeling myself. But I have grown to realize that a fiddling "jack-of-all-trades" is a musical identity in itself."
In 2005 Brian joined forces with good friends Ben Winship and Eric Thorin to form acoustic power trio Brother Mule. "It is so fun playing with these guys." says Brian. "The only downside is that we live so darn far away." Ben lives in Idaho, Eric in Colorado and Brian in Minnesota. When do they practice? "We send ideas via email and sometimes play for each other's answering machines. Otherwise, we show up a day before a tour and try to remember how our tunes go and teach each other a few new ones."
Brother Mule in concert is a musical conversation between three of America's most gifted acoustic musicians. The bandmates share the spotlight in a three-ringed circus of extraordinary talent and variety. Brian Wicklund ignites the stage with his fiery fiddling, Ben Winship plays tasty mandolin as he croons one of his finely crafted songs, while Eric Thorin pushes the boundaries of bass playing as an extreme sport.
Their debut recording, Big Twang which was re-named Brother Mule, earned them the Indie Music Award's Best Americana CD of 2005. It's a showcase of original and traditional vocals and instrumentals spanning genres of swing, old time, Celtic, old country and acoustic funk.

Ivan Rosenberg - Dobro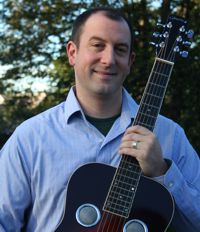 Since releasing his first solo album in 2001, Ivan Rosenberg has gained a dedicated following for his melodic, expressive acoustic music on Dobro and Clawhammer Banjo.
Millions have heard his original songs in the background of over 400 television programs and films including The Daily Show, Oprah, Call of the Wildman, History Detectives, the Special Edition DVD of Serenity, and the Hollywood blockbuster Kangaroo Jack.
Ivan earned an IBMA Award for co-writing the 2009 Song of the Year; played on the CD Southern Filibuster: A Tribute to Tut Taylor (produced by Grammy winner and Dobro legend Jerry Douglas); and performed with Chris Coole, The Foggy Hogtown Boys, Chris Jones & The Night Drivers, the April Verch Bigger Band, Lizzy Hoyt, Chris Stuart & Backcountry, and many more.
Ivan is also in high demand as an instructor, having taught a combined 50 weeks at music workshops such as Steve Kaufman's Acoustic Kamp, Rob Ickes' ResoSummit, Sore Fingers Week in England, Walker Creek Music Camp, California Bluegrass Association Music Camp, 108 Mile Cabin Fever Bluegrass Workshop, NBCMS Acoustic Music Workshop, British Columbia Bluegrass Workshop, Midwest Banjo Camp, Grand Targhee Music Camp, and Old School Bluegrass Camp.
Ivan is back by popular demand which is not surprising as he's fine player and teacher. With his touring buddy, Chris Coole also in attendance, watch out for outstanding showcases performances, all part of the package!

Courtney Hartman - Class Full - Holding Wait List - Guitar
Singer, songwriter, and guitarist Courtney Hartman started playing guitar at the young age of eight, after having already spent several years on the fiddle and mandolin. Her early years were spent steeped in American Roots music, and today she has fused a diverse range of influences from Norman Blake to Bill Frisell, creating music that acknowledges and pays homage to her roots, while pushing beyond its defined boundaries.
Courtney left her native Colorado for Boston, where she studied in the American Roots Music program at Berklee College of Music. It was there that she joined Della Mae, and began to grow as a songwriter, contributing songs to the group's second and third albums. Her solid rhythm playing and melodic improvisations has brought her accolades from the guitar oriented press. She appeared on the cover of Acoustic Guitar's 2014 30 under 30 issue where her flatpicking prowess was lauded as "Staggeringly good" by the editors and the Fretboard Journal heralded Courtney as "...easily one of the greatest flatpicking guitarist performing today."
Courtney now lives in Brooklyn and tours frequently, playing some two-hundred days a year, both at home in the states, and in countries as far off as Pakistan and Vietnam as part of the US State Department's Music Exchange program; an experience that has had a profound impact not only on her music, but her world view. Her literary songwriting is filled with stories about changing relationships, life on the road, and—implausibly enough—a song that finds beauty and longing in jet lag. In addition to her solo work and touring with Della Mae, Courtney has worked with a range of musicians including Tom Petty and the Heartbreaker's Mike Campbell, Buffy St. Marie and Hot Rize's Bryan Sutton. Courtney has recently released a solo project to great acclaim, Nothing We Say.

Ron Block - Filling Fast - Guitar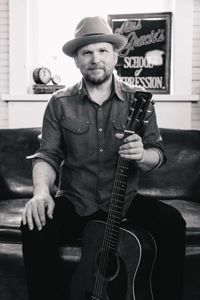 Ron hardly needs an introduction at Sore Fingers anymore. He's become one of those tutors who is an integral part of the event. Anyhow, when a man such as this says, "I'm going to be in England around Easter, can I help out at Sore Fingers", you jump to it!

The timing was perfect as Courtney Hartman's class was full so it was an easy answer: A big YES!

Ron mostly known for banjo is also a astounding guitar player and his smooth style is perfect for that highly Alison Krause produced sound.

So come and learn the secrets of that playing with a the master himself!

We're delighted to have Ron back, a real pleasure.

Matt Flinner - Class Full - Holding Wait List - Mandolin
Matt Flinner has made a career out of playing acoustic music in new ways. Starting out as a banjo prodigy who was playing bluegrass festivals before he entered his teens, Flinner later took up the mandolin, won the National Banjo Competition in Winfield, KS in 1990, and won the mandolin award there the following year.
He moved to Nashville in 1999 and is now widely considered one of the hottest and most creative mandolin players on the acoustic scene. His two solo albums for Compass Records, "The View from Here" and "Latitude", both featured bluegrass stalwarts Todd Phillips, David Grier, Stuart Duncan, Jerry Douglas and Darol Anger, and received high critical acclaim.
Flinner actively tours with Phillips and Grier (in Phillips, Grier and Flinner) and the Modern Mandolin Quartet, as well as with his own Matt Flinner Acoustic Trio and Matt Flinner Quartet, which released its Walking on the Moon CD on Compass in 2002.
He also tours with the Matt Flinner Trio, as a member of the 'new acoustic' trio Phillips, Grier & Flinner, as a member of Darrell Scott's band, and with guitarist Frank Vignola (David Grisman Quintet). Flinner also special guests on banjo with Leftover Salmon and in the fall of 2008 was a featured soloist with Trey Anastasio and Carlo Aonzo during Orchestra Nashville's performance of "Concertino" (Don Hart). He most recently appeared on comedian Steve Martin's new recording The Crow and the Vignola Collectives' March 09 release, Gypsy Grass . "Flinner provides the next logical evolutionary step to David Grisman's unique dawg style, and does it with a nod to the past and a vision of the future."
His most recent work "Music du Jour" with Eric Thorin and Ross Martin featured pieces of music written and performed for the first time on the same day during a tour. You've got to be a bit crazy to do that unless you are as talented as Matt Flinner of course.
We're lucky to have Matt at Sore Fingers Week for fourth time and though he is teaching mandolin, you might just get an insight into his multi instrumentalist skills on the banjo guitar and anything else he chooses to have a play on.
One thing, he'll be in good company with the other masters we have teaching at S.F.Week.

Jack Tuttle - Filling Fast - Mandolin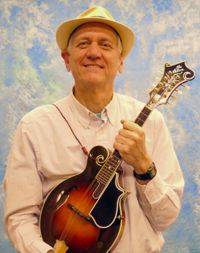 Jack grew up in a musical family in rural Illinois and began playing guitar at age 5. When Jack was about 12 years old, he began playing bluegrass banjo (he learned from hearing his father play) and a little later took up mandolin and then fiddle. He began teaching full time at Gryphon in 1979 and has worked very hard on developing a complete lesson program on banjo, mandolin, fiddle and guitar. He has taught thousands of students over thirty years, many of whom have become top players in the Bay Area and beyond. He has been especially successful with children, some of whom have grown into major talents on the local and national scene. His current and past students heavily populate the jam scene in the South Bay and on the Peninsula. He is also the music editor of Fiddler Magazine and has written twelve instructional books. Jack has developed and taught special seminars in History of Bluegrass, Critical Listening to Bluegrass, Bluegrass Improvisation and Music Theory for Bluegrass and he is a known across the nation for his work in music education.

Jack also taught his own three children, Molly, Sullivan and Michael, who are all three nationally recognized bluegrass talents. Despite their young ages, they have performed throughout the US, Europe and Canada. Their YouTube videos have over two million views.

Jack has performed professionally in the U.S., Canada, Europe and Japan and has been a member of numerous bands, including the Gryphon Quintet and the Fog City Ramblers. He now plays with The Tuttles with AJ Lee, which features three of his own kids. Jack has performed at many notable events, such as: A Prairie Home Companion, Hardly Strictly Bluegrass, Strawberry Music Festival and Merlefest. He has been a mainstay every year at the prestigious CBA Bluegrass Camp in Grass Valley, one of the largest bluegrass camps in the country. He also has taught at the Walker Creek Music Camp, the California Coast Music Camp, the Festival of American Fiddle Tunes and the Northern Bluegrass Circle Workshop (in Canada). In 2012, 2016 and 2017, Jack won the Northern California Bluegrass Society's Bluegrass Fiddler of the Year award. He has recorded various albums in his career, including a duet album with his daughter Molly and two with The Tuttles with AJ Lee. Jack has worked as album producer and sound engineer as well.

In 2007, Jack was presented with the California Bluegrass Association's distinguished Honorary Lifetime Membership Award and in 2014, he was awarded a Lifetime Achievement Award by the Northern California Bluegrass Society.

Tatiana Hargreaves - Filling Fast - Old Time Fiddle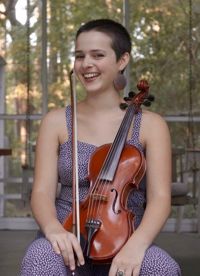 Over the past eight years, Tatiana Hargreaves has been on the forefront of an up and coming generation of old time, bluegrass and new acoustic musicians. Since releasing her first solo album "Started Out To Ramble" in 2009, Tatiana has toured with musicians such as Dave Rawlings, Gillian Welch, Laurie Lewis, Darol Anger, and Bruce Molsky. From being the second woman to place first at the Clifftop Appalachian Fiddle Contest, to her bluegrass fiddling on Laurie Lewis' GRAMMY-nominated album The Hazel And Alice Sessions, Hargreaves shows a musical fluency that flows between old time and bluegrass worlds with ease. Tatiana dedicates herself to learning about the history and culture of music and respecting traditional old time and bluegrass while simultaneously seeking her own voice and exploring new ways of approaching these styles. This comes across in her educating and performing, engaging students and listeners with the very questions she contemplates about tradition, innovation, and positionality.

Chris Coole - Only a couple of places left - Old Time Banjo
Chris Coole got his first banjo when he was 17 years old after falling in love with the sounds of early country music. Today, Chris is considered one of the finest exponents of the clawhammer style in North America.
His unique style of clawhammer banjo playing began to reach a wider audience with the release of his first two CDs "Five Strings Attached With No Backing" and "Five Strings Attached, Vol. 2". Both albums were collaborations with long time musical partner, and fellow Torontonian, Arnie Naiman. Chris has been a finalist in the banjo contests at The Appalachian Stringband Festival in Clifftop West Virginia (2004, 2006) and the West Virginia State Folk Festival (2002, 2005).
Since 2001, Chris has played guitar, sang and written songs for critically acclaimed bluegrass band The Foggy Hogtown Boys. His love for the golden era of bluegrass music is apparent to anyone who hears his singing and songwriting. In 2006 he was awarded "Guitarist of the Year" at the Central Canadian Bluegrass Awards.
From 2000-2007 Chris collaborated with old-time fiddler Erynn Marshall. In 2005 He co-produced her critically acclaimed CD "Calico". In 2006 the duo recorded "Meet Me in the Music" which has been nominated for best traditional album at the 2007 Canadian Folk music awards.
Chris is acknowledged as a skilled teacher of both banjo and guitar and has taught at many workshops across Canada and the U.S. and Europe. He has indeed been to Sore Fingers Week before so let's welcome him back. In 2007, Woodhall Music released "The Elements of Clawhammer Banjo" an instructional DVD featuring Chris' approach to teaching the banjo.
Chris Coole says his current projects include "clawhammer banjo/dobro duets with Ivan Rosenberg, pounding out old-time music with The Lonesome Ace Stringband, adding banjo and guitar to the songwriting genius of David Francey, and finally playing solo, all by myself."

Allison De Groot - Only a couple of places left - Old Time Banjo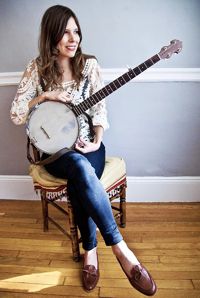 Allison de Groot combines love for old-time music, technical skill and a creative approach to the banjo forming her own sound – unique and full of personality. Although firmly rooted in old-time and music, she has shown her ability to collaborate and create outside this genre, pushing the boundaries of the clawhammer banjo.
Allison has toured all over the world with various groups, performing at venues such as Newport Folk Festival, Stockholm Folk Festival, Winnipeg Folk Festival and Tønder Festival in Denmark. The music scene in her hometown of Winnipeg, Canada, immersion in Appalachian old-time communities, a performance degree at Berklee College of Music in Boston, and touring extensively throughout North America and Europe have all had a great impact on her playing. She is dedicated to honoring old-time music, the community that music creates and exploring the clawhammer banjo style. She is currently performing with Bruce Molsky's new project Molsky's Mountain Drifters and The Goodbye Girls, among others.

Emily Miller - Singing
Building on the success of the 2017 Singing classes run by Val Mindel and Joe Newberry, who better than Val's daughter and her partner to take the class jointly this year!
Emily Miller came to Sore Fingers October weekend with val a few years ago and she will be joined by her musical partner and husband Jesse Milnes.

The Val and Joe partnership was always going to be difficult to follow up, we are sure Emmy and Jesse will live up to the mark!

PLEASE NOTE: This class is limited to 40 students.

Jesse Milnes - Singing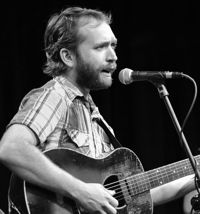 Jesse Milnes and Emily Miller perform country and old-time music, singing close harmony with Jesse's unique finger-picked guitar style and a healthy dose of old-time fiddling. Emily was raised playing and singing old-time and country music (the Louvin Brothers and the Stanley Brothers were household favorites) with her parents while they traveled the world as journalists. Jesse grew up in the world of West Virginia old-time music, learning from masters like Melvin Wine and Ernie Carpenter as well as his father, Gerry Milnes. They now make their home in central West Virginia.

In addition to their duo performing, Emily tours extensively with The Sweetback Sisters (a 6-piece country band fronted by Emily and her pseudo-sister Zara Bode), they both play for square dances around West Virginia, and also frequently teach harmony singing with Emily's mother Val Mindel.

Phil Doleman - Ukulele
Phil's voice is as big as his ukulele is small, and his love of vintage blues, hokum, jug band and jazz shines through in his intricate picking and driving rhythms on both uke and tenor banjo. Phil has travelled all over the UK and to Europe and the US, performing and leading workshops at festivals, theatres, clubs and events. He has appeared on several albums, performed on BBC radio and TV, taught over 1500 ukulele players, and shared the stage with some of the world's finest players.

Phil paid us a visits during the Easter week and loved Sore Fingers. He makes his debut this October and we hope he bring s a lot of uke player friends with him! A fun guy to be around!

BEGINNERS CLASS -
In recent years, demand for beginners classes has fallen from an average of forty students to less than twenty. We have been appointing a tutor for each instrument to provide the best tuition but the reduction in demand means this arrangement is no longer sustainable.

We are therefore reverting to bringing the beginners class to one large group taught by a talented multi-instrumentalist. Naturally, where necessary we will add tutors should demand justify it.

We believe teaching the beginners as a group has advantages over individual classes as most students want to learn to play with others and the group environment is ideal for that goal. In fact, when we first introduced the beginners class, that's how it was done.

See below for the 2018 tutors.

Percy Copley - Beginners: Mandolin - Guitar - Banjo
Percy Copley has been around the British Bluegrass festival circuit quietly plighting his trade for as long as one can remember. Percy, a man of many talents is equally adept on Mandolin, Banjo (tenor and five string), Guitar and Ukulele…, in fact you name an instrument it and it is likely he can get a tune out of it! Percy spent twenty odd years on the entertainment staff at Eurodisney in France and has been there since the park opened in 1992.

This year, we've asked him to take charge of the beginners class and he will be teaching Guitar, Banjo and Mandolin. He is particularly fond of teaching beginners and says it's very rewarding work. Sure a great thing for the students

Percy is a monster performer and knows his way around Bluegrass, Old Time and many other styles of music. A perfect man to start out with.

Percy has an infectious sense of humour but behind the façade, there is a real professional at work. His class is guaranteed to be fun but expect to meet a dedicated master of his art.

Eleanor Wilkie - Beginners: Bass - Fiddle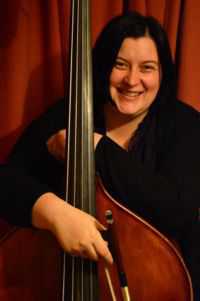 Eleanor has a long standing connection with the SFSS entry level courses and is a highly regarded musician. Adept on both bass and Fiddle, Eleanor will support Percy in teaching the beginners group.

As a member of the recently formed supergroup, Midnight Skyracer, she is a sought after player and is regularly asked to help S.F. tutors out in their showcases. A task she carries out with confidence and skill.aplomb!

As a qualified teacher, Eleanor is well placed to take beginners and improvers on their way to becoming great musicians.