Tutors
2015 - The Twentieth Sore Fingers Week

BONNIE PHIPPS - BOOKING CLOSED - AUTOHARP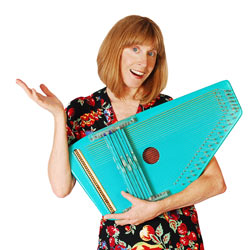 Bonnie Phipps has made her living through music since the 1980s. She has recorded and performed with The Colorado Folk Ensemble, which featured intricate arrangements with autoharp, cello, violin, and guitar. Pete Wernick (of Hot Rise fame) described the group's sound as "Old Time New Age Chamber Music" — a blend of traditional, classical, and jazz elements. The ensemble toured for Columbia Artists Management doing community concerts around the Western states. They also played at many prestigious folk venues, including the Hudson River Revival, Philadelphia Folk Festival, Winnipeg Folk Festival, Kerrville Folk Festival, Winfield Folk Festival, and Old Songs Festival.

Phipps' has written articles on the autoharp for Frets magazine, and two books including her Beginning Autoharp Instruction Book for Alfred Publishing Company. She won Autoharp Championships at both Winfield Folk Festival and Mountain Laurel Autoharp Gathering. Bonnie has been a featured performer and workshop leader several times at the Willamette Autoharp Gathering, California Autoharp Gathering, NorthWest Autoharp Gathering, Augusta Autoharp Week, and Mountain Laurel Autoharp Gathering. She also taught a five-day autoharp class for Haystack and has recently been invited to teach and perform in England for Sore Fingers Week.

Bonnie has three recordings featuring the autoharp: Autoharpin', The Colorado Folk Ensemble, and her new arrival, Anything Goes, which are all available in the store on this website.

NED LUBERECKI - BOOKING CLOSED - BLUEGRASS BANJO
A 25-year professional who's noted for his dazzling technique, originality and broad sense of humor, Ned Luberecki has served for over a decade with Chris Jones & The Night Drivers. His resume includes stints with Paul Adkins & The Borderline Band; Gary Ferguson; Radio Flyer and the Rarely Herd, frequent winners of SPBGMA's Entertaining Band Of The Year award. He's a popular banjo instructor at some of the most renowned instructional camps in the US, Canada and Europe as well as private lessons at his studio in Nashville and online via webcam. Ned is also a broadcaster on SiriusXM's Bluegrass Junction, where he hosts the regular newgrass show, Derailed, and the popular Sunday Banjo Lesson.
Since joining The Night Drivers, Ned has continued to make a name for himself as a guest on a variety of recordings and appearances, including tours with Larry Cordle & Lonesome Standard Time and as the "other" banjo player with Tony Trischka's Double Banjo Bluegrass Spectacular. In 2007, he released a popular solo project, Nedski, which included duets with friends like The Infamous Stringdusters' Chris Pandolfi and Punch Brothers' Noam Pikelny, along with comic favorites like "Cabin Of Death." In 2010, he teamed up with the Sam Bush Band's Stephen Mougin as Nedski & Mojo, releasing an acclaimed project Nothing More.

TONY TRISCHKA - BOOKING CLOSED - BLUEGRASS BANJO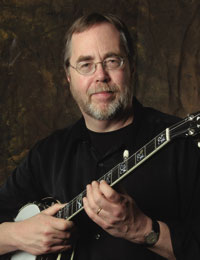 Tony Trischka is considered to be the consummate banjo artist and perhaps the most influential banjo player in the roots music world. For more than 45 years, his stylings have inspired a whole generation of bluegrass and acoustic musicians with the many voices he has brought to the instrument.
Tony is not only considered amongst the most innovative of banjo players, he is one of its most respected and sought after instructors creating fifteen instructional books as well as a series of DVDs. In 2009, he launched the groundbreaking Tony Trischka School of Banjo, an advanced, interactive, online instructional site that is the banjo home for students from around the world.
This will be Tony's fifth visit to Sore Fingers and he is without doubt one of the most popular banjo tutors we have had the pleasure to invite to Kingham. It so impressed him, he wrote a tune about it called "Chipping Norton"! So good to have him back.

MIKE COMPTON - BOOKING CLOSED - MANDOLIN
Mandolin Magazine calls him a player with "a worldwide reputation as one of the modern masters of bluegrass mandolin, one of the most recognizable and respected mandolin voices anywhere". He's Mike Compton--Grammy and IBMA award-winning recording artist; solo, duo and band performer; and as passionate a teacher and advocate for the mandolin as you're ever likely to find. The New York Times calls Compton, "a new bluegrass instrumental hero."

BEN WINSHIP - - BOOKING CLOSED - MANDOLIN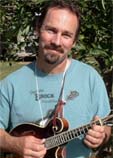 Ben Winship is a self-made musician who's routine is a constantly shifting mix of performing, recording, engineering and teaching. Mandolin is Ben's primary axe, but he is also a well respected songwriter, singer and multi-instrumentalist.
Winship's version of string band music is an exploration of crossroads; where raw meets refined, original meets traditional, weird meets familiar, organized meets free ranging. The Boston Globe called his sound "A further leap from traditional hill country music." Tim O'Brien refers to him as "One of the acoustic music scene's best writers."
Performance-wise, Ben can most often be found on stage with Brother Mule (the acoustic power trio with Brian Wicklund and Eric Thorin) and the Growling Old Men (duo with John Lowell). Over the past 25 years, gigs have taken him everywhere from Hawaii to Shetland, Anchorage to Equator, with appearances along the way at places like the Telluride Bluegrass Festival, Strawberry Music Festival, A Prairie Home Companion and the Vancouver Folk Festival.
A great percentage of his time is now spent in the studio – engineering and producing CDs, recording his own music and teaching.

MISSY RAINES - BOOKING CLOSED - BASS
Missy Raines is the most decorated bass player in the history of the International Bluegrass Music Association- with 7 Bass Player of the Year Awards to her credit. A former member of the Grammy Nominated Claire Lynch Band, the acclaimed duo, Jim Hurst and Missy Raines, Missy is one of the most popular figures in the bluegrass community and a trailblazer in her field for as long as she's been playing music. Her rich pedigree in the field reaches from legends such as Mac Wiseman, Kenny Baker, Josh Graves and Eddie and Martha Adcock, to contemporary artists like Peter Rowan, Laurie Lewis, Dudley Connell and Don Rigsby. Missy also toured and recorded with the rootsy, edgy Brother Boys.
It will be Missy's second visit to Sore Fingers Week and we are delighted to welcome her to Kingham Hill School again. Her breadth of knowledge on the bass is extensive and she knows how to take bass players to uncharted territory. It's a real bonus to have such a great musician on the 2015 team!

JOHN LOWELL - BOOKING CLOSED - GUITAR
It's funny how sometimes when you have developed a great passion, and looking back on how it all started, the beginning was a small insignificant event. Not a great revelation that knocks you off your feet, but a small, quiet occurrence, maybe even a slow process that brings you to the thing that you feel most strongly about - the thing you love to do the most. Such is the case with the music and John Lowell. The small, insignificant event was sneaking into his sister's room and picking up her guitar that was lying on the bed. The journey began at that point and continues to this day. What started as a small seed has grown into something that has consumed his life in many ways.
The musical road has wound many places, from Colorado to Montana via Arizona, to Shetland, England and Canada, and all over the North American continent. The road isn't paved, so the occasional bump is to be expected, but the smooth stretches are frequent and long. There have been many late nights. There have been some absolutely amazing musical experiences, both as a spectator and a participant. The notes have gone into the air and vanished, leaving only an intense memory of what just happened.
John has played in nationally recognized bands, the current group being Kane's River and has travelled to England and Canada to teach guitar at music camps. John has received critical acclaim for his singing, song-writing and guitar playing both with Kane's River and Growling Old Men - a mandolin/guitar duo with Ben Winship. Several bands have recorded John's songs which is credit to the man's song-writing skills. We've lost count of how many times John has been at Sore Fingers Week. That's what happens to talented people, you have to keep bringing them back!

SALLY VAN METER - BOOKING CLOSED - DOBRO
Since 1977, Sally's slide guitar work has gained respect and recognition among peers and audiences for her commitment to staying true to playing music with heart and soul. She is well-known for her performances & recorded works ranging from solo work to collaborations with artists such as Jerry Garcia, Chris Hillman, Cyril Pahinui, Jerry Douglas, Mary Chapin-Carpenter, Alison Brown, Taj Mahal, Peter Rowan & the Rowan Brothers, Yonder Mountain String Band, Tony Rice, Kathy Kallick, the Nashville Bluegrass Band, Gerry O'Beirne, Maura O'Connell, the inimitable Leftover Salmon and more.
On the Sugar Hill label, Sally's work on The Great Dobro Sessions (producers Jerry Douglas/ Tut Taylor) earned the 1994 GRAMMY AWARD certificate for Best Bluegrass Recording from NARAS as a featured performer; in addition, Sally's solo album All In Good Time was a finalist nominee for IBMA Instrumental Album of the Year.
She has been an IBMA Finalist Nominee for Dobro Player of the Year from 1990-1997 and in 1996 won two IBMA awards, Best Instrumental Recording and Recorded Event of the Year (The Great Dobro Sessions). For nearly three decades, Sally's musical journeys have taken her from the US to the United Kingdom, Europe and Japan.
These days Sally resides professionally in Colorado. Sally's love of teaching music has kept her a mainstay at festivals, music workshops & camps throughout the US/UK and Europe.
Everything from quiet and lovely slide to screamin' electric lapslide. Freelancer, from straight up bluegrass to singer/songwriter to solid blues music. "Sounds like a bit much, but it is after all what I do".

BRUCE MOLSKY - BOOKING CLOSED - OLD TIME FIDDLE 1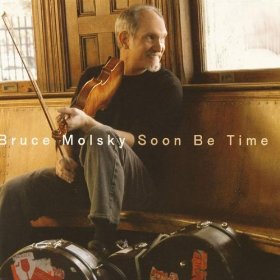 To play traditional music, you've got to be something of a folklorist, hand-selecting songs learned from field recordings, festivals, and old-timers. Bruce Molsky goes above and beyond: the world's premier old-time fiddler walks around with a library's worth of lyrics and music humming in his head.

RAYNA GELLERT - BOOKING CLOSED - OLD TIME FIDDLE 2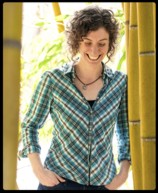 Rayna Gellert grew up in a musical family, and has spent most of her life immersed in the sounds of rural stringband music, heartfelt gospel songs, and old ballads. After honing her fiddle skills playing at jam sessions and square dances, Rayna fell into a life of traveling and performing. Her fiddle albums are widely celebrated in the old-time music community, and she has recorded with a host of musicians in a variety of styles – including Robyn Hitchcock, Tyler Ramsey, Sara Watkins, Loudon Wainwright III, John Paul Jones, and Abigail Washburn. From 2003 through 2008, Rayna was a member of the acclaimed stringband Uncle Earl, with whom she released two albums on Rounder Records and toured like mad. In 2010, she met songwriter Scott Miller, and they began performing and recording together. In 2012, Rayna released her first vocal album, Old Light: Songs from my Childhood & Other Gone Worlds, on StorySound Records. She lives in Swannanoa, North Carolina.

DAVID GRIER - BOOKING CLOSED - GUITAR - MASTERCLASS
Born in Washington, D.C. in 1961, a family move to Nashville at age 3 fully immersed David Grier into the bluegrass music world, and at age 6, he began playing the guitar. Today, he is regarded as one of the premier acoustic guitarists in the world, along with his early influences, Doc Watson, Tony Rice, and family friend Clarence White. Recognized by Acoustic Guitar Magazine in 2000 as one of the Artists of the Decade, and named Guitar Player of the Year three times by the International Bluegrass Music Association, Grier has played on four Grammy Award-winning albums (True Life Blues: A Tribute to Bill Monroe; The Great Dobro Sessions; Alison Brown's Fairweather; and Amazing Grace 2: A Country Salute to Gospel).
Having released four albums on Rounder, beginning in 1988 with Freewheeling, Grier launched
his own label, Dreadnought Recordings, with the 1998 debut release, Hootenanny, with Dirk
Powell and Tim O'Brien ("endlessly inventive and tasteful" - All Music Guide). Evocative (Dreadnought 2009), featuring 10 original tunes and a rich complement of collaborators (Victor Wooten, Paul Franklin, Stuart Duncan and more), has been hailed for its "deep musical introspection" as well as its "unmatchable mastery of the guitar" (Martin Mull). Other Dreadnought releases include the highly-acclaimed Live at the Linda (2007) and I've Got the House to Myself (2002) ("unfettered explosive invention" - Tim O'Brien). His most recent release is Fly On The Wall (2014).

RACHEL EDDY - BOOKING CLOSED - OLD TIME FIDDLE 3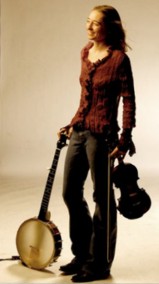 Although you can check my "Bio" page for more details, let me tell you a little about myself right up front. I was born in raised in rural WV near Morgantown, where my father Richard Eddy got me started playing fiddle as a little girl. Pretty soon I realized that I was having more fun making old time string band music than just about anything else, which I have done pretty much full time since I finished school. Since then, I have supported myself playing fiddle, banjo, guitar, mandolin and bass, as well as singing and telling stories, throughout the eastern U.S. and Europe. I love the intimate connection of working with a dedicated student or performing solo in front of small audiences as much as the collective charge of leading large open jam sessions and tight ensembles in front of thousands of festival goers. One of my favorite ways to share music is at contra and square dances – both as a musician and a dancer. Over the years, I have had the honor of sharing stages, workshops and recording sessions with the likes of Tim O'Brien, Erryn Marshall, Dirk Powell, Russ Barenberg, Bruce Molsky, and the g'earls from Uncle Earl. I have three recordings of my own – to take a listen, check out my site at http://www.reverbnation.com/racheleddy. Having spent 2008-2014 living in Europe, I am now excited to be returning to the States.

ADAM HURT - BOOKING CLOSED - OLD TIME BANJO 1
Deemed a "banjo virtuoso" by the Washington Post, Adam Hurt has fused several traditional old-time idioms to create his own elegantly innovative clawhammer banjo style, having been introduced to the banjo at age eleven in his native Minnesota. A respected performer and teacher of traditional music, Adam has played at the Kennedy Center and conducted banjo workshops at many venues around the country and abroad. Adam has placed in or won most of the major old-time banjo competitions including Clifftop, Mount Airy, and Galax, and won the state banjo championships of Virginia, West Virginia, and Ohio, as well as the state fiddle championships of Virginia and Maryland.

BILL WHELAN - BOOKING CLOSED - OLD TIME BANJO 2
Bill Whelan is Ireland's premier Old Time Banjo expert and has been a regular teacher at Sore Fingers. His collaborations here and in the US are legendary and he is most well known for his work with the band The Rough Deal String Band who have made numerous appearances at British Festivals. Bill is a great tutor and his track record at both Sore Fingers Week and the Sore Fingers October Weekend is second to none; a claim backed up by his popularity with the students. It's always good to have Bill and his hat at Kingham Hill.

JIM VAN CLEVE - BOOKING CLOSED - BLUEGRASS FIDDLE
Now in his mid 30's Jim Van Cleve has already achieved more than many musicians do in a lifetime
His solo album, "No Apologies" is a collection of unusual depth and breadth that enhanced his reputation as one of the leading musicians of his generation. The album was highly acclaimed garnering a Grammy Nomination, took "Album of the Year" honors in the Folk Music category of the Indie Acoustic Awards. It was also included in the Top 10 Best Albums Lists in The Wall Street Journal, the Chicago Tribune, The Washington Times, USA Today and CMT. The project boasts an impressive total of 3 charting singles, with the first single holding down the Top Spot for an amazing 3 months.
As one of the most in-demand top-call session musicians in Nashville, Jim has played on countless recordings and has recorded and/or performed with legendary artists like Johnny Cash, Vince Gill, Merle Haggard, Alison Krauss, Willie Nelson, Dolly Parton, Emmylou Harris, Linda Ronstadt, Ricky Skaggs, Del McCoury, Doc Watson, Glen Campbell, Tony Rice, Carrie Underwood, Jerry Douglas, Sam Bush and many, many more.
Jim's Best-Selling Instructional ACUTAB DVD, giving over 4 hours of in-depth Instruction, unlocks the secrets of improvising in traditional American fiddle styles.

KATHY KALLICK - BOOKING CLOSED - SINGING
There is a school of bluegrass in Northern California which has, from the beginning, been steeped in Monroe-based tradition. Kathy Kallick (guitar, vocals) has been leading bands in this traditional brand of West Coast bluegrass since co-founding the internationally-acclaimed band, Good Ol' Persons, in 1975. She continues to evolve as one of the music's extraordinary composers and vocalists, now releasing her 17th album, recordings which include over 100 of her original songs. Along the way, she has
• won a Grammy and two IBMA Awards for her part on True Life Blues: The Songs Of Bill Monroe …
• had five title tracks and albums -- Call Me A Taxi, Walkin' In My Shoes, Warmer Kind Of Blue, Between the Hollow and the High-Rise, and Time. Each spend a year in the top echelon of the national bluegrass charts
• performed and recorded with the Frank Wakefield Band
• written and recorded award-winning music for children and families …
• appeared on three high-profile Rounder collections of bluegrass songs by women, as well as noteworthy compilations of songs about baseball, trains, spiritual matters, families, broken hearts, Christmas, and mothers
• toured throughout North America, Europe, and Japan …
• received a Lifetime Membership award from the California Bluegrass Association … and …
• collaborated with the country's top acoustic musicians – including her fabulous current band:
Annie Staninec: fiddle, clawhammer banjo, vocals
Tom Bekeny: mandolin, fiddle, vocals
Greg Booth: dobro, banjo, vocals
Cary Black: acoustic bass, vocals

GARY PAYNE, PERCY COPLEY, RICHARD HOLLAND, IAN NICHOLLS, ETC - BOOKING CLOSED - ALL INSTRUMENTS
You wouldn't go far on the British Bluegrass scene without bumping into Gary at some point. He could be on stage with "A Band Like Alice" or "Home Territory", leading a rasping session or in fact teaching at Sore Fingers Week. Gary is a bit of an "encyclopedia of Bluegrass"

For the last twenty two years Percy Copley has worked at a well known American entertainment park in France singing and playing Scruggs banjo, mandolin, guitar and tenor guitar. He has played in several bands there playing country, bluegrass, blues and jazz. He regularly teaches at music camps and has previously taught mandolin at Sore Fingers.

Beginner's Scratch band team leader: Richard Holland is a fine player and gets right into the detail. He has a great feel for both Bluegrass and Old time playing and will surely add breadth to anyone's style. Richard's team will consist of several luminaries well known to the British Bluegrass Scene